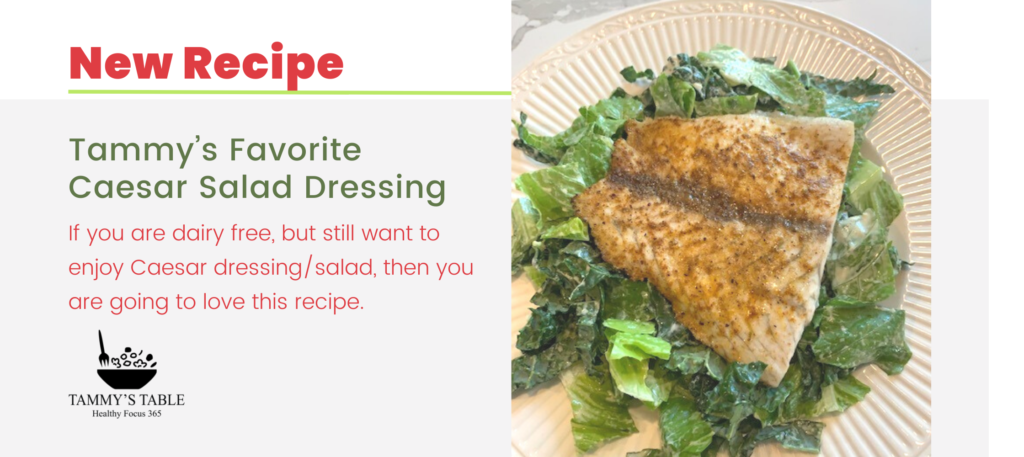 Have you ever found yourself wondering what's on Tammy's Table?
Tammy's Table is providing another great recipe this week that is for sure going to hit the spot! Tammy's favorite Caesar salad dressing is perfect if you are dairy-free, but still want to enjoy Caesar dressing/salad.
Dairy-Free Creamy Casear Dressing/Salad
Ingredients:
½ cup Primal Kitchen Avocado Mayo (or other non-sugar mayo)
2 teaspoons of lemon juice
2 teaspoons of coconut aminos
2 teaspoons of spicy brown mustard- I use Primal kitchen
1-2 cloves of garlic minced (I use 2)
¼ tsp salt
¼ tsp pepper
Directions
Prepare in food processor
Salad
4-6 cups of greens
I like to make mine a mix of romaine, iceberg, and kale. But you may use any blend you like. 
Protein (pick one)
Grilled Chicken or Blackened Chicken
Shrimp
Fish
Toppings (pick one)
Silvered Almonds
Sunflower seeds
Roasted pine nuts or pecans
I like to get creative with my salads. Often for something different, I will slice up nitrate-free salami and pepperoni and add to the base salad with the Caesar dressing and top with sunflower seeds, slivered red onion, and sliced pepperoncini. 
Other uses: use as a dipping sauce for raw veggies.