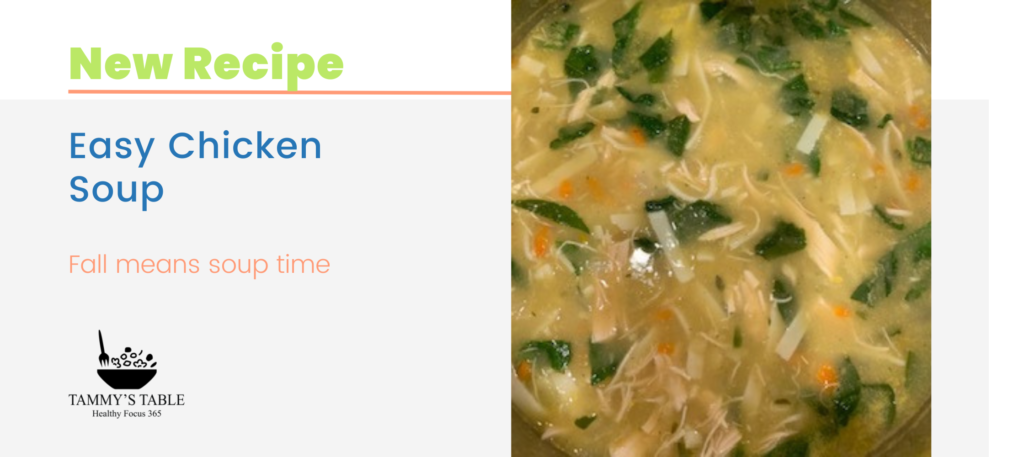 Are you ready to see what's on Tammy's Table?
Fall means soup time Here is my favorite Easy Chicken Soup recipe. Get creative with it. Let me know what you added to it.
Store-bought roaster chicken: remove the breast and shred with a fork
1 box Organic Imagine free-range chicken broth (this is my favorite brand for taste and thickness)
½ onion, diced
2 stalks of celery, diced
1 medium-sized carrot, peeled and diced
1 cup fresh spinach
1-2 cloves garlic, minced
1 cup cooked quinoa or cooked brown rice
2 Tablespoons olive oil
Salt & pepper
Option: If you love chicken noodle soup but are gluten-free. Omit the quinoa and replace with ½ box of Capello's Almond Flour Fettuccine cut into 2-inch pieces. [purchase at Whole Food's in freezer section]
Cook quinoa or rice ahead of time according to package directions and set aside.
In a medium-sized stock pot, heat olive oil on medium.
Add the onions, celery, and carrot. Cook on medium until slightly soft.
Add the garlic and cook for another minute.
Add chicken and chicken broth and simmer until hot.
Add in cooked quinoa or rice and spinach.
Cook until spinach is wilted and serve.
If using the Capello's fettuccine, place noodles in frozen. Continue cooking on medium for another 5 minutes and the spinach. Once the spinach is wilted.
Serve.