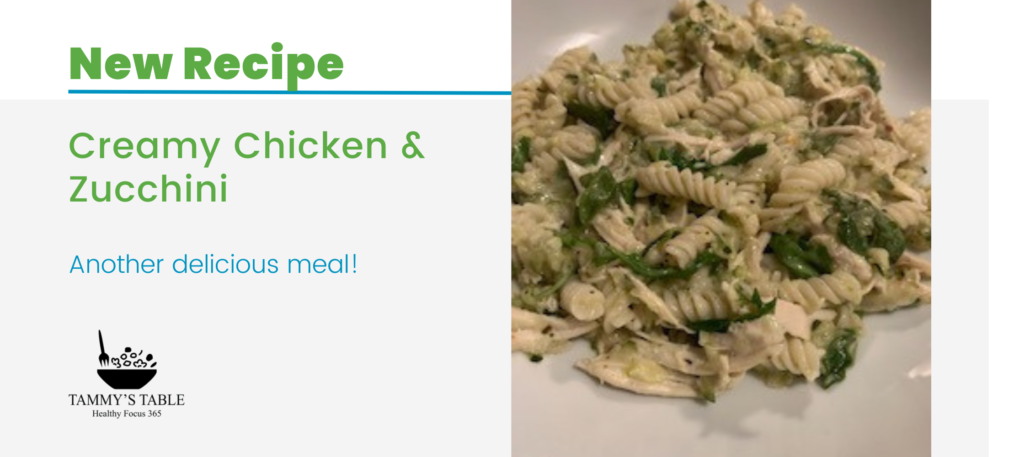 Are you ready to see what's on Tammy's Table?
If you are looking for something creamy and comforting. I got just the thing.
Creamy Chicken and Zucchini over just about anything!
1 cup shredded Roaster Chicken
2 lbs Zucchini (approximately 2 medium zucchini)
1 medium Vidalia onion
¼ cup Olive Oil
1 ½ Tablespoons minced garlic
1 cup Silk Dairy-Free Heavy Cream
¼ cup grated Violife "parmesan cheese"
½ tsp Italian seasoning
1/8 teaspoon Red Crushed Pepper Flakes
¾ teaspoon Salt
½ tsp Black Pepper
Choose 1:
1 bag Trader Joe's Cauliflower Gnocchi Or 1 box Andean Quinoa Pasta (this is my favorite gluten-free pasta)
Note: you can put this sauce over rice or even spaghetti squash. Be creative.
Cook quinoa or rice ahead of time according to package directions and set aside.
Wash and dry the zucchini then grate onto a baking sheet lined with paper towel to remove excess moisture. Note: I like to use the grating attachment on my food processor.
• Grate Vidalia onion. Note: I chop the onion and run through the grater/food processor. It makes steps 1 & 2 quick and easy.
Place olive oil in a large sauté pan and heat on medium. Add onion and sauté for approximately 3 minutes.
Add garlic and red pepper flakes and continue to sauté for another minute.
Add zucchini and the remainder of the seasonings. Sauté until heated through.
Add the shredded chicken, mix gently.
Add the "heavy cream" and the "parmesan cheese" and continue to heat over medium until bubbly then turn off or low until you are mixing in your carb of choice.
For Cauliflower Gnocchi: prepare according to directions and add to mixture. My preferred method is to defrost the gnocchi first and then pan sear with a little olive oil, then add to the Creamy Chicken & Zucchini Sauce.
For Gluten-Free Pasta: prepare according to box instructions. I like to use the Andean Fusilli shaped pasta.
For fun and variety, I will prepare only half of the cauliflower gnocchi and half a box of pasta and split the sauce.