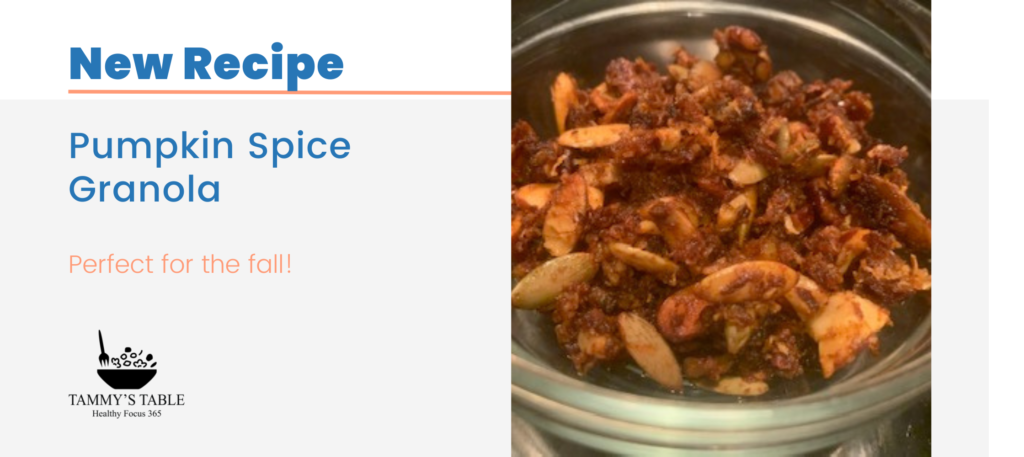 Are you ready to see what's on Tammy's Table?
It's Fall Y'all! Are you ready for another fall recipe?
½ cup sliced almonds
½ cup pecans, roughly chopped
½ cup pumpkin seeds (pepitas)
1/3 cup unsweetened shredded coconut
6 dates, pitted and chopped small
1/3 cup coconut oil, melted
½ cup pure maple syrup
½ cup pumpkin puree, unsweetened
1 tsp vanilla extract
2 tsp pumpkin pie spice
1/8 tsp salt
Optional: ¼ cup Enjoy Life Mini Chocolate Chips [Important: do not add to granola prior to baking. Add when the granola has cooled for approximately 5 minutes.]
Preheat the oven to 325 degrees
In a large glass bowl microwave coconut oil until liquid.
Add all wet ingredients, maple syrup, pumpkin puree, vanilla and mix well. Next add the chopped dates and mix.
Next add all the dry ingredients: almonds, pecans, pumpkin seeds, coconut, pumpkin pie spice and salt. Mix well.
Line 2 baking sheets with parchment paper. Place half of the mixture on each baking sheet and spread into a thin layer.
Cook for approximately 15 minutes, then move the granola around and cook for another 15 minutes. Be sure it doesn't burn.
Let cool, the granola will harden as it cools.