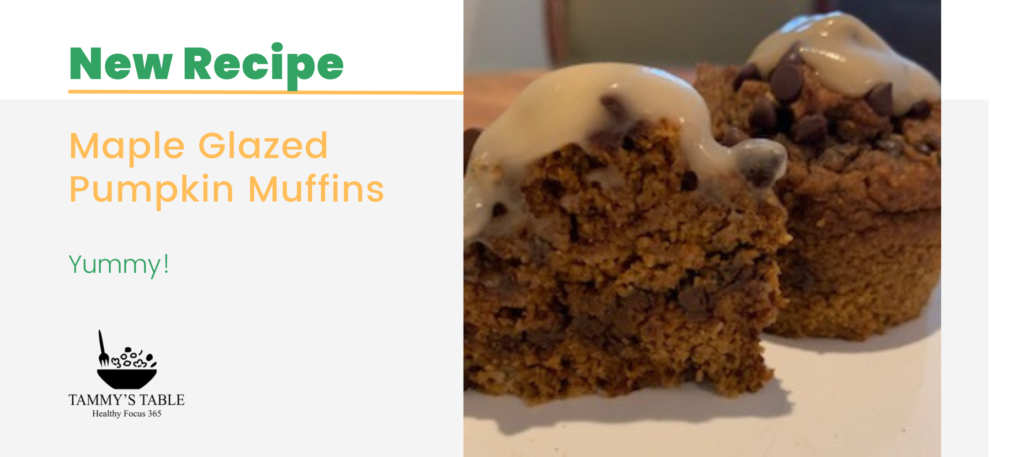 Are you ready to see what's on Tammy's Table?
It's Fall Y'all! So who is ready for another delicious recipe?
1 cup Organic Pumpkin Puree (no sugar)
½ cup Almond Butter (creamy is best)
2 Eggs
¼ cup Pure Maple Syrup
½ tsp Vanilla Extract
1 ¾ cup Blanched Almond Flour (not almond meal)
2 tsp Pumpkin pie spice
1 tsp Baking soda
¼ tsp Salt
½ cup Enjoy Life mini chocolate chips
¼ cup Coconut Butter (not coconut oil.  Also called coconut mana)
2 Tbs Pure Maple Syrup
1 tsp Vanilla extract
1-2 Tbs Almond Milk-unsweetened
Preheat oven to 350 degrees. 
In a large bowl whisk, all of the wet ingredients together.
Next mix all the dry ingredients together, excluding the chocolate chips.
Fold in the almond flour mixture into the wet ingredients and mix well.
Next add the chocolate chips, but reserve some for the top of the muffin or use a little extra.
Spoon into muffin-lined tray.
I like to use the more firm version as seen in the picture as almond flour muffins tend to stick.
If using the formed muffin cup liners, the recipe will yield about 9 muffins and you will need to bake around 26 minutes or until toothpick inserted is clean.
If using regular paper muffin liners, recipe yields 12 muffins and baking time is approximately 22-24 minutes. 
Place the coconut butter in the microwave for about 20-25 seconds or until you can easily whisk until smooth.
Add the maple syrup, vanilla and 1 Tablespoon of almond milk.
You don't want the glaze to be too thin as it will run over the muffin. 
Once the muffins are completely cool top with a spoonful of glaze and enjoy.