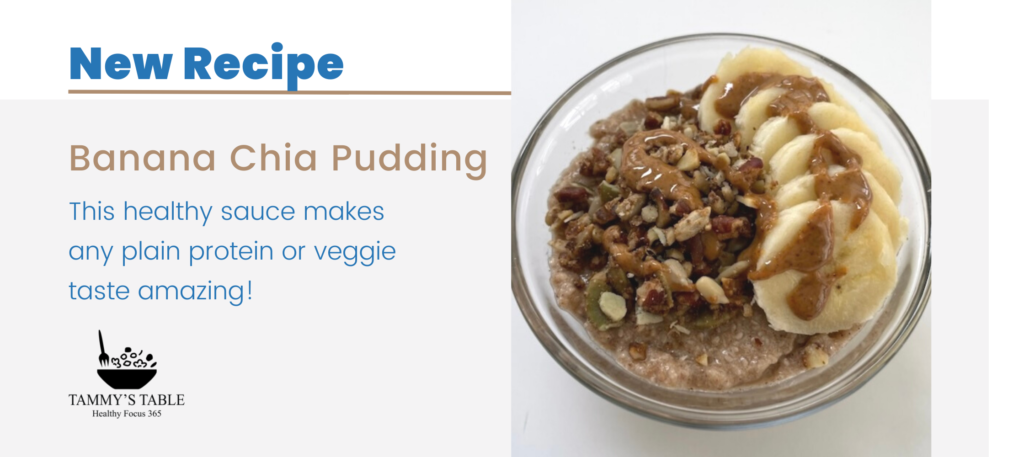 Have you ever found yourself wondering what's on Tammy's Table?
I am bananas about Banana Chia Pudding. Chia seeds contain bone-strengthening calcium and boast 2.3 grams of protein and 3.3 grams of fiber per tablespoon!
Ingredients:
1.4 cup Chia Seeds
1 Medium Bananna
1/2 cup full fat Coconut Milk
1/4 tsp Cinnamon
Pinc of Salt
Splash of unsweetened Almond Milk if you like your pudding thinner
Directions:
Puree the banana in a food processor, add the coconut milk, chia seeds, cinnamon and salt and pulse until well blended. Divide into 2 small bowls and chill for at least 30 minutes or more. 
Toppings: 
1/4 sliced Banana
1-2 Tablespoons of your favorite Granola [I like Paleonola]
1 Tablespoon of Almond Butter-drizzled over the top 
Additions: 
Collagen powder or other protein powder to increase the amount of protein. I used 2 tablespoons of Great Lakes Collagen Hydrolysate.
Swaps: 
You can swap out the full fat coconut milk for unsweetened Almond Milk to lower the fat content. It won't be as creamy but still yummy. 
To make 4 smaller servings, add ½ cup of unsweetened Almond milk.