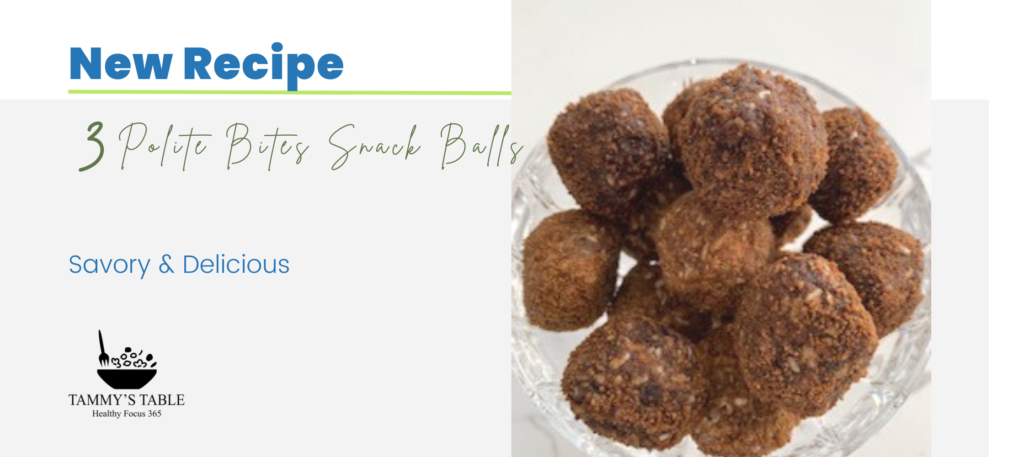 Have you ever found yourself wondering what's on Tammy's Table?
You will often here me say, when consuming a treat, to practice the "3 polite bite" rule. This means, that when we want to consume a dessert or something sweet to have just 3 bites. Generally, we only taste the first 3 bites and then we continue to eat it just because.  So, I created these little snack balls to be consumed as a snack or when you just want something a little sweet. Each ball is designed to be eaten in 3 bites and savored.  
Ball Ingredients: 
1/8 cup (15g) raw Pumpkin Seeds
1/8 cup (16g) raw Sunflower Seeds
1/8 cup (16g) flax seeds
1/3 cup Almond Butter
¼ cup unsweetened Shredded Coconut
1 Tablespoon Vanilla Coconut Sugar
2 teaspoons Coconut Oil
1/8 tsp Cinnamon 
1-2 teaspoons of water if needed to form mixture into a ball
Coating: 
1 Tablespoon Vanilla Coconut Sugar
1/8 tsp Cinnamon
Variations: 
1 Tablespoon Enoy Life Chocolate Chips or Lakanto Chocolate Chips
1/4 Teaspoon Cofee Extract Flavoring
Directions: 
In a spice grinder or small mini-prep grinder, place the pumpkin, sunflower and flax seeds and grind until small.
Place in a bowl and add the shredded coconut, vanilla coconut sugar, cinnamon, and mix.
Next add the coconut oil and almond butter and mix well. You should be able to form into a ball. If not, add 1 teaspoon of water at a time until you can form the mixture into balls. I like to use a 1" [1 Tablespoon] small meatball maker.
Form into a ball and then roll in the Coating and place on wax paper coated tray.
Once you have made all into balls, place in the freezer and store until ready to consume.
They will be hard to bite into, so be careful, but this helps to ensure that you will eat in 3 small polite bites  I have included a chocolate coffee variation- 2 of my favorite flavors together if you would like a little more decadent treat.