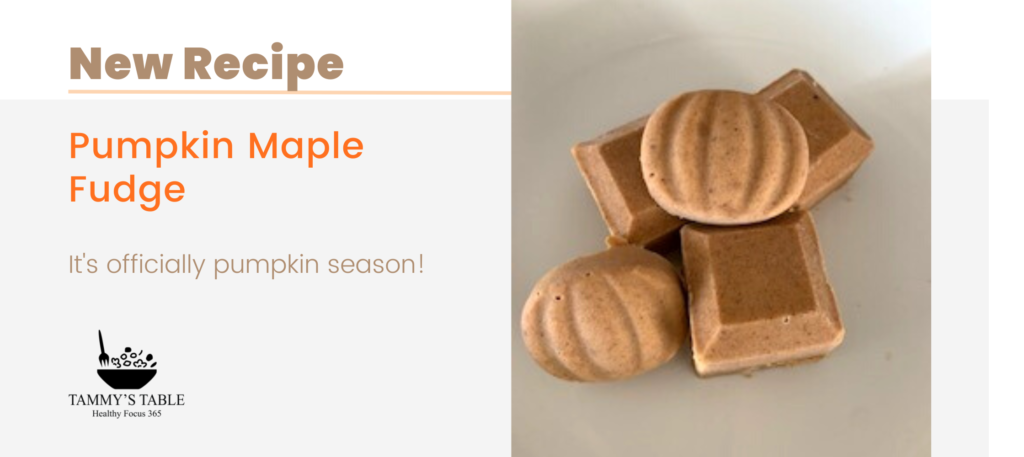 Are you ready to see what's on Tammy's Table?
It's Fall Y'all! Who loves everything pumpkin because if so this one is for you!
½ cup unsweetened canned pumpkin
½ cup coconut oil
½ cup unsweetened almond butter
¼ cup maple syrup (I used Birch Benders Keto Maple Bourbon to lower the sugar content and I like the hint of bourbon. You may also use Lakanto Maple flavored syrup)
1.5 teaspoons pumpkin pie spice
1/8th teaspoon of salt
Preheat the oven to 350°.
Line a muffin tin with 9-10 muffin liners.
Melt the coconut oil until liquid, add to glass mixing bowl and add all the other ingredients.
Mix until smooth.
Divide equally into a silicone ice cube tray or silicone candy mold and place in the freezer until hard.
Store in the freezer or fridge as they will get soft and messy if kept out.
You can also use mini cupcake paper liners and freeze or simply line a square glass dish with parchment paper and cut into squares. Trust me you will enjoy them no matter what shape they are LOL.