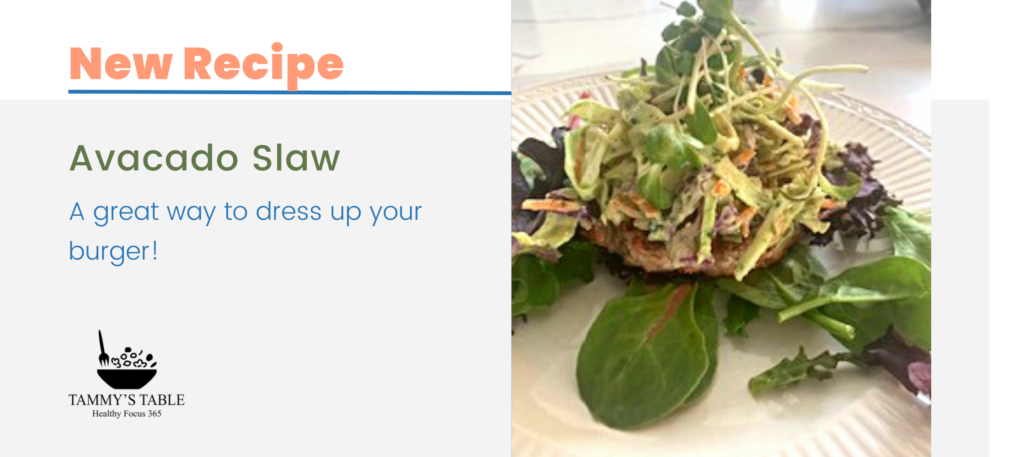 Have you ever found yourself wondering what's on Tammy's Table?
Looking for a great side dish to dress up your bunless burgers? I love topping my turkey burgers with an avocado slaw or making fish tacos with the cilantro and lime variation.
Let me know your favorite way to enjoy Avocado Slaw. 
Ingredients:
1 Bag pre shredded red and green cabbage [can shred your own,  approximately 6 cups]
¼ sliced thin purple onion
1 ripe avocado
½ cup primal kitchen avocado mayonnaise (can use regular)
2 Tablespoons of Apple Cider Vinegar
Salt & pepper to taste
Directions:
Mash the avocado until smooth.
Add the avocado mayonnaise to the mashed avocado and mix until creamy.
Add in the apple cider vinegar, salt and pepper and mix well.
Place the shredded cabbage and sliced onions into a large mixing bowel and add the avocado mayo mixture and mix well.
Serve cold. 
Variations: 
1 Tablespoon minced cilantro
Substitute 1 Tablespoon of fresh lime juice for 1 Tablespoon of Apple Cider Vinegar